Students and teachers made innovative playground equipment from discarded pallets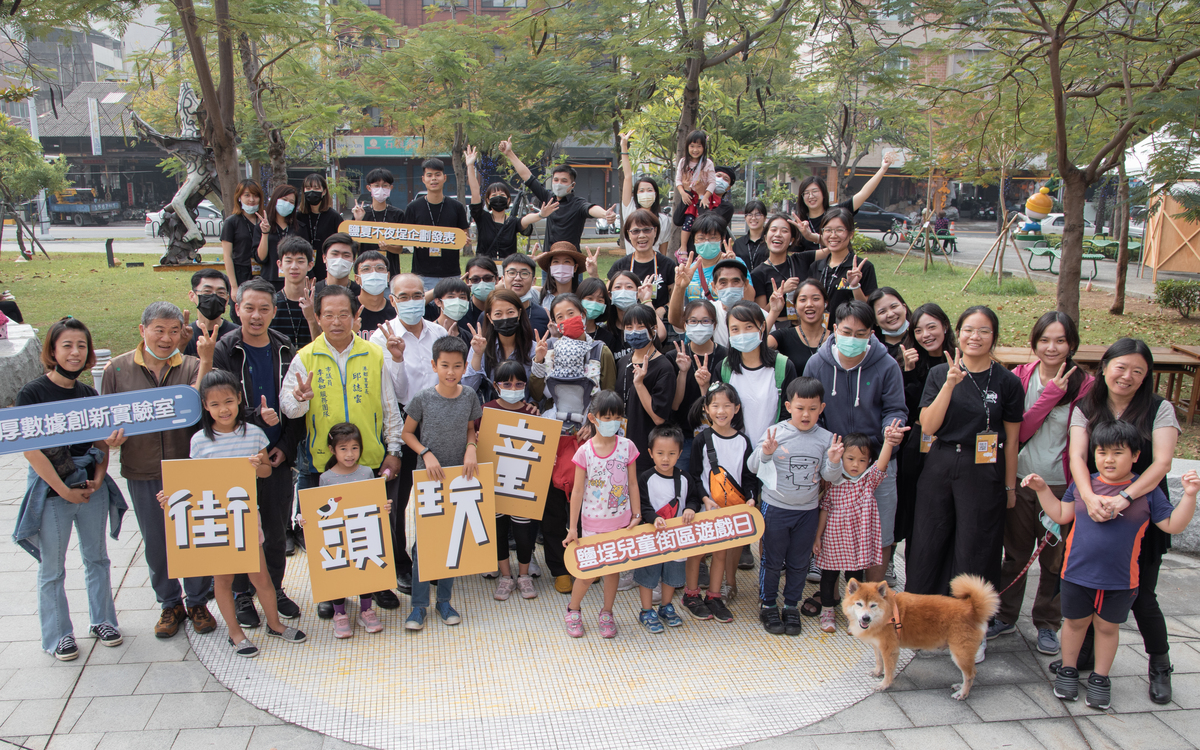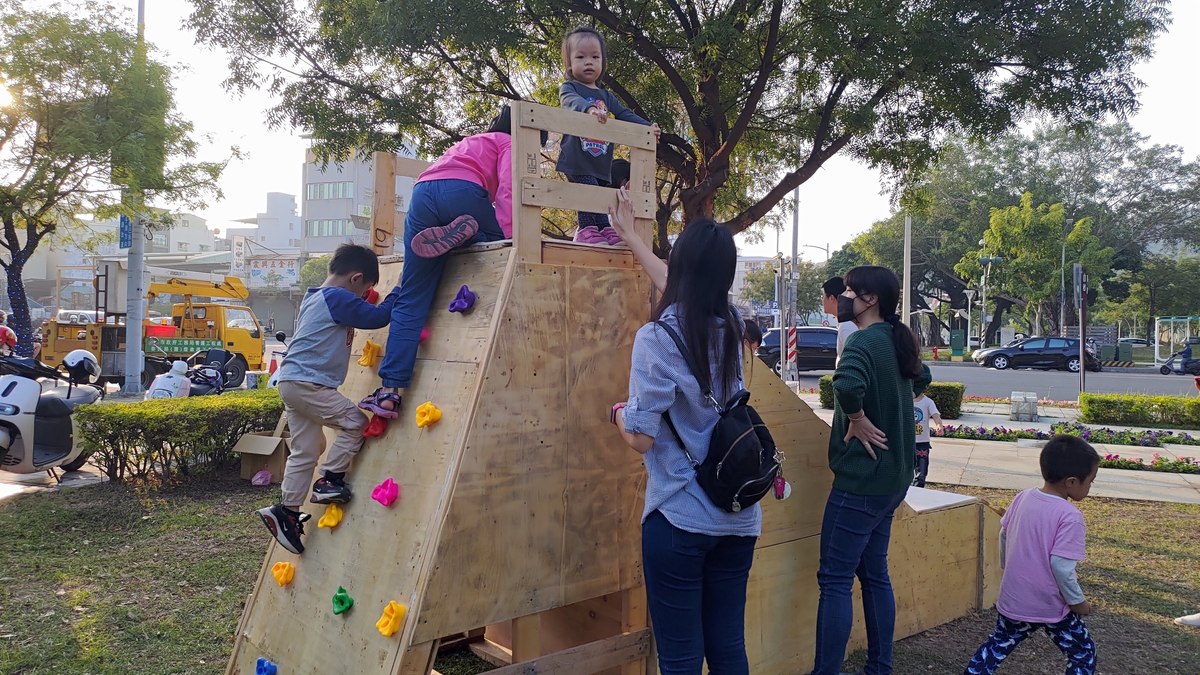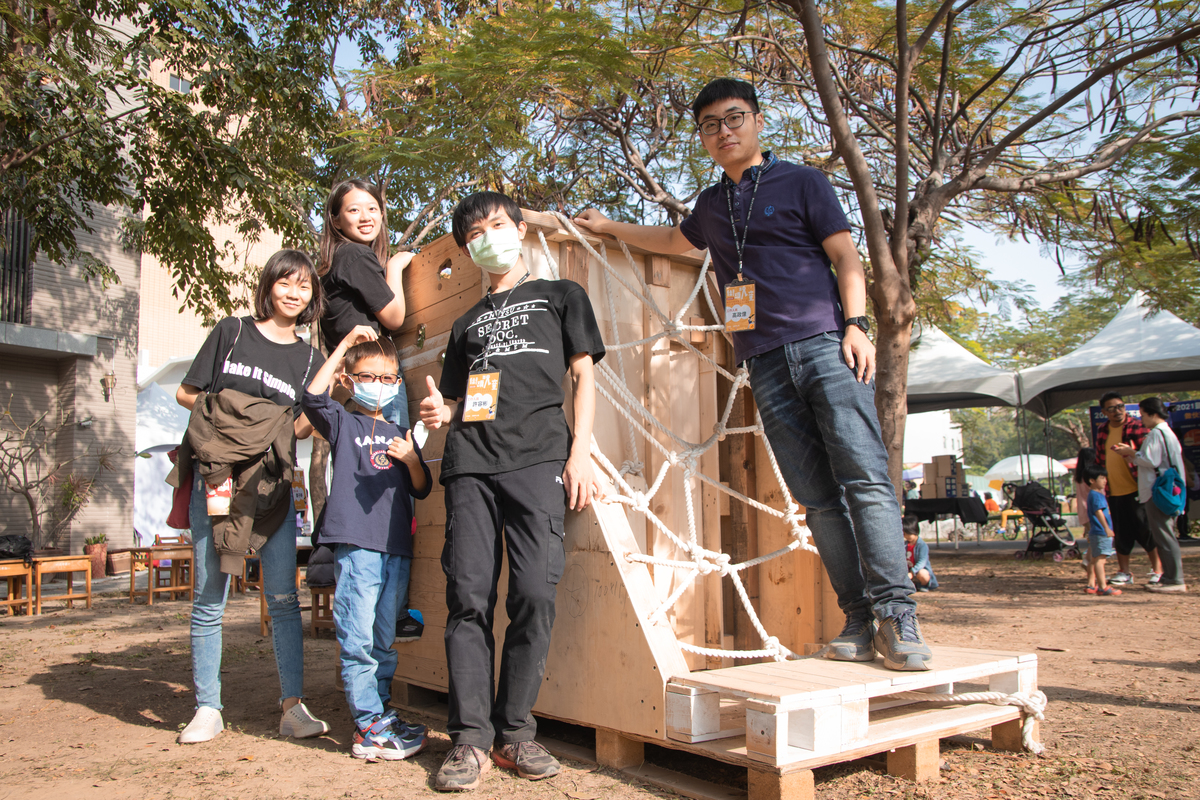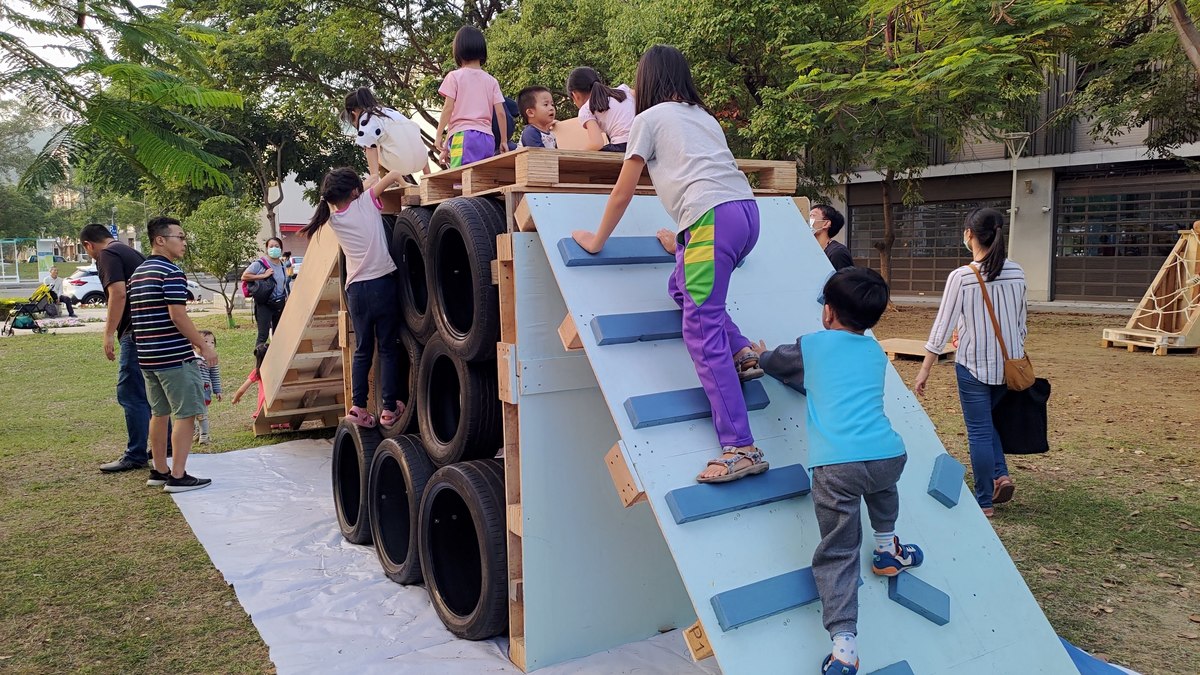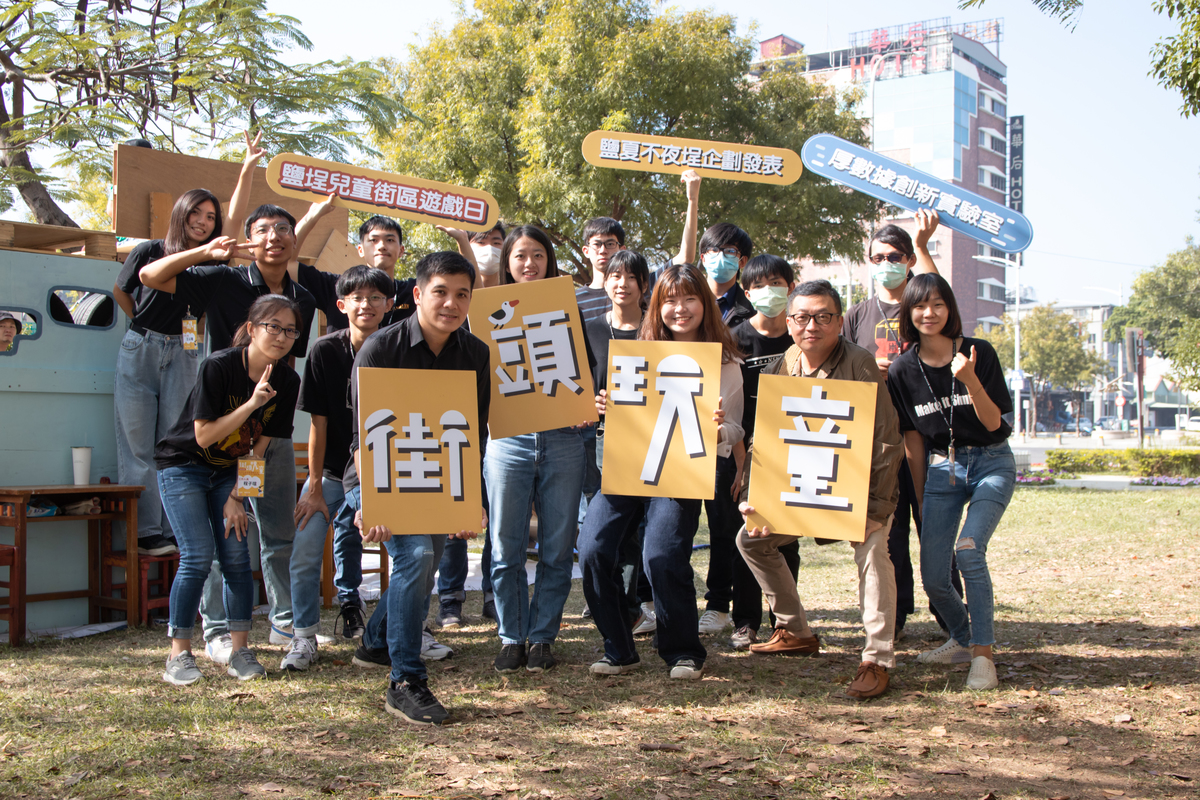 Discarded pallets gained a new life as innovative playground equipment for children thanks to the project of National Sun Yat-sen University. NSYSU collaborated with a local association – Parks and Playgrounds for Children by Children (PPFCC) to organize the 2020 Street Fun for Children. NSYSU students and teachers used discarded wooden pallets donated by Radiant Opto-Electronics Corporation – a local enterprise, tires, and rope nets, to assemble four sets of innovative children's playground equipment for James Laidlaw Maxwell Park in Yancheng District in Kaohsiung City, attracting more than 800 visitors in just two days.
Assistant Professor Shih-Hsiang Sung of the Program in Interdisciplinary Studies at NSYSU pointed out that the "Design Thinking" course let the students and teachers fulfill their social responsibility by responding to the PPFCC's concerns about the playgrounds in Kaohsiung not fitting the needs of children's physical and mental development at different stages of growth. The team spent a month observing children's play behaviors and playing with them to understand their needs. This experience reminded many university students of their childhood playtime; then they had to make the actual equipment themselves, said Shih-Hsiang Sung. He added that the students spent a month learning about play equipment design and woodworking with the PPFCC representative for Kaohsiung Chia-Chih Huang, and M.Zone woodworking teachers Kevin Lu and Michael Chao. Later, they spend another month putting into play what they learned and created 4 sets of playground equipment. Three sets will be moved to the "Technician Shed" park in Cijin Island, run by NSYSU. The University welcomes parents to take their children to the park for experience at the beginning of the next year.
Sung said that the structure of the wooden pallet is very solid and thus can be used to make larger and more solid constructions and allow children to safely challenge higher levels of difficulty. The "Carefree Sleep" set applies 3D modeling in the design of its four modules, has colored climbing blocks for the children to fully exercise their limbs climbing up and down, and allows adjusting the degree of difficulty to children's age. The "Secret Base in the Sky" is made of discarded wooden pallets and tires, allowing children to climb and find their own secret spot. The "Go Go Jungle" is the smallest of all sets; its pallet with stair steps made of a rope net for the children to stretch their limbs even in its small space. The inspiration for the "After the Afternoon Tea" comes from cheese: the whole set was painted yellow. Both vertical walls of the set have climbing holds for kids to organize climbing competitions.
"The equipment made by NSYSU students is completely different!". One of the parents said that most of the playground equipment is quite restricted and not challenging, with stairs and sliding boards. These 4 sets of playground equipment have no limitations and do not indicate any particular path or direction, and challenge the kids. "If these sets are moved to another playground, I will take my child there to play!"
The event included not only the presentation of innovative playground equipment but also a presentation by students of the "Creative Street Development and Design Thinking" course on the theme of the next year's event – Don't Sleep in Yancheng 2021. The theme of next year's event is "Let's Fall Asleep". Besides starting a debate among local residents, the event area will also extend to Dayong Road, with the aim to build the brand image of the Yancheng District with installation art, performances, and a market in the key shopping area. Local representatives: Kaohsiung City Councilor Chiao-Ju Li, Yancheng District Executive Tzu-Shan Yen, Chief of Gangdu Village Chih-Yun Chiu, General Manager of Chateau de Chine Hotel Kaohsiung Chun-Yu Lin, Wen-Hsin Lo of the 3080s Local Style Curatorial Project, and Director of the Yancheng Research Society Ching-Yuan Hsiao all expressed their expectations and provided many valuable suggestions. In addition, the students also prepared a number of other activities that enriched the agenda of 2020 Street Fun for Children, such as a theme game – "Dream Tour" that lets children take on the role of toy store manager.
Both events: 2020 Street Fun for Children and the planning presentation of Don't Sleep in Yancheng 2021 were supported by the University Social Responsibility Program and Higher Education Sprout Project of the Ministry of Education, Zhongxiao Elementary School, the Office of Yancheng District Executive, and Radiant Education Foundation. The sponsors worked together with NSYSU to create a friendly and creative community environment.