NSYSU offers best student support among universities in Taiwan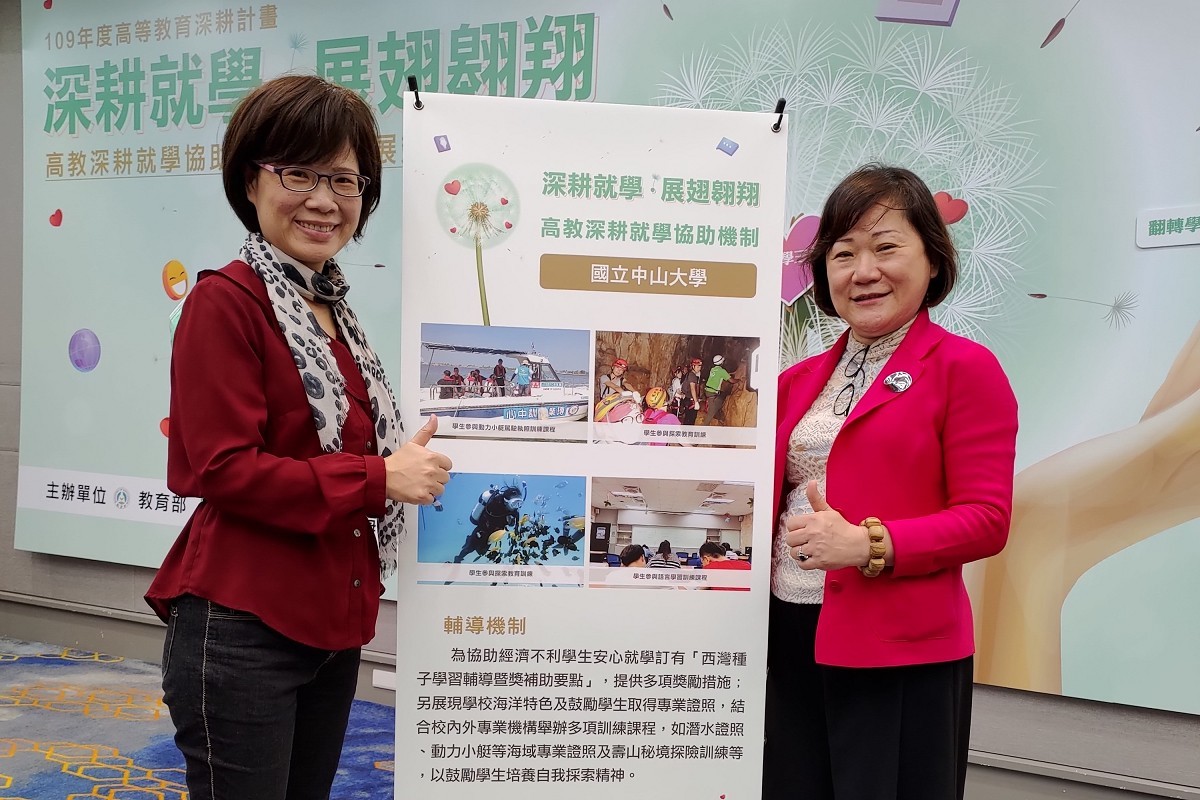 2021-01-27
National Sun Yat-sen University has recently been conferred the University with Best Student Support Services Award by the Ministry of Education. Vice President for Student Affairs Ching-Li Yang and NSYSU alumna, CEO of Dolphin Logistics, Mei-Lan Liu collected the award. Vice President Yang said that to support disadvantaged students, NSYSU established new guidelines for counseling and allowance; besides the existing fee waivers and student loans, the University collaborates with corporations to establish scholarship programs and help students with their education and employment with the joint forces of the industry, government, and academia.
The new guidelines include various incentive measures, emphasizing the unique location of NSYSU by the sea, and encouraging students to obtain professional certifications. Numerous training courses combining university education with training at professional organizations off campus are on offer, such as diving, powerboat driving, or Shoushan mountain exploration training. These courses aim at nurturing students' self-exploration and assist disadvantaged students to turn their lives around at NSYSU.
"The percentage of disadvantaged students enrolled at NSYSU is the highest among all public universities in Taiwan!" Vice President Yang said that besides stipulating the guidelines, NSYSU has been participating in the Multi-star Project for years to even out the inequalities in the access to higher education between urban and rural areas. The University has also implemented the Southern Star Project for 10 years to help outstanding but economically disadvantaged students from low-income families, families in hardship, indigenous communities, with unemployed parents, with disabilities, or with siblings that have disabilities to get enrolled and to bring a positive change. "No one will be left behind." What is more, to care for disadvantaged students and promote social mobility, the University established the Si-Wan Scholarship that supports students' undergraduate education costs and provides them with comprehensive resources of education and counseling on financial support, coursework, internship opportunities, and career planning.
Yang emphasized that NSYSU actively promotes the Southern Star Project, a special recruitment channel for underprivileged students, fulfilling its social responsibility and promoting the public character of higher education. The Project was acknowledged by TSMC Foundation, which sponsors scholarships of NTD 100,000 for 5 students annually for a period of 4 years, prioritizing those from low- and lower-middle-income families, and those with unemployed parents.
CEO of Dolphin Logistics Mei-Lan Liu, an alumna of the NSYSU EMBA program, actively supports her alma mater and donates funds for the Soaring Far and Wide Project to help underprivileged students go abroad for exchange. Liu was recommended by Senior Vice President of the University Shiow-Fon Tsay, and conferred the award by Political Deputy Minister of Education Mon-Chi Lio.
Launched by NSYSU President Ying-Yao Cheng and Senior Vice President Tsay, the Soaring Far and Wide Project, supported by companies, alumni, the public, and teachers, helps disadvantaged students broaden their horizons by encouraging and assisting them to study abroad. According to the destination of the exchange, the allowance to cover the costs of living can be up to NTD 500,000 or even 600,000 for the duration of half a year or a year. The Soaring Far and Wide Project supports students from low- and lower-middle-income families, and families in hardship, who have outstanding study performance and wish to go abroad for exchange, internship, or volunteer program. The Project covers the cost of flight tickets, insurance, and living costs, and provides counseling for students to help them study without worries. Nearly 30 students have benefited from the Project since its launch in 2016.