NSYSU organizes global webinar on Taiwan's solutions to climate change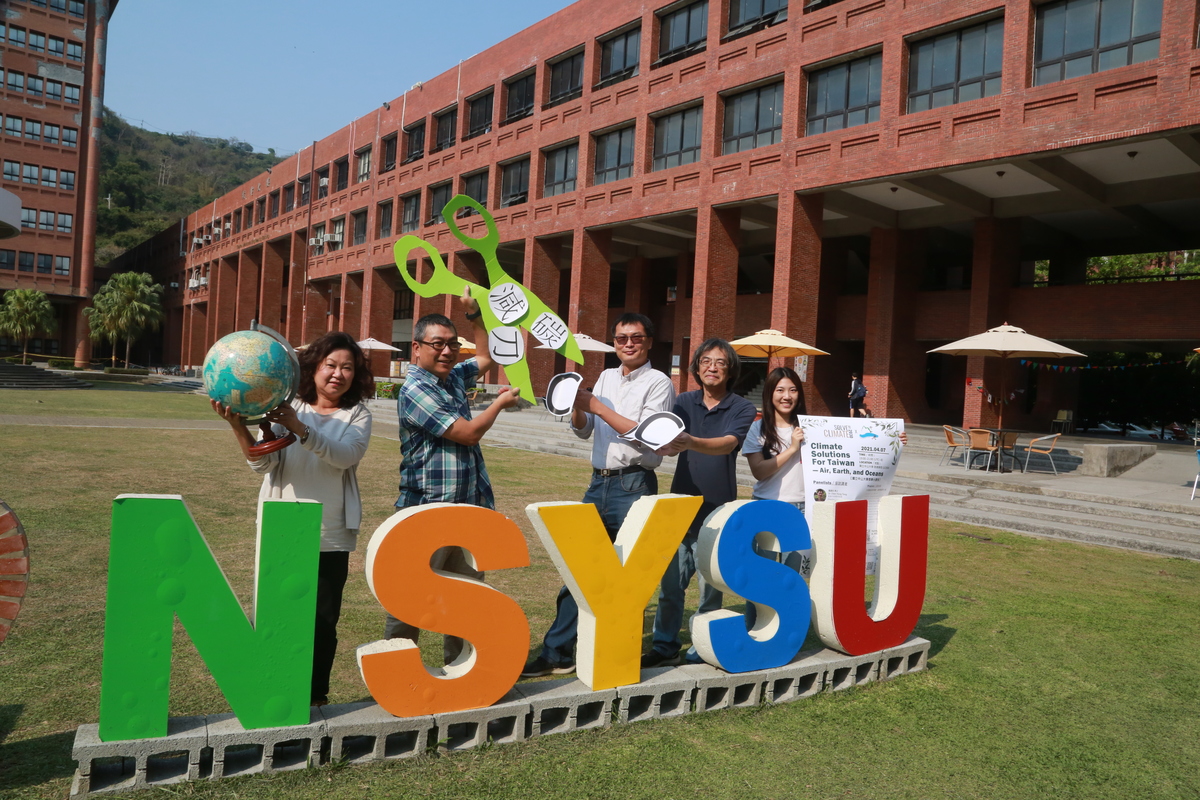 2021-04-01
As the world is beginning to recover from the pandemic, National Sun Yat-sen University, as the only university from Taiwan, is joining more than 100 universities around the world in the Global Dialog of the project by Open Society University Network (OSUN) – Solve Climate By 2030 and will host a webinar on April 7 and show how Taiwan can help solve climate change and share a series of solutions: marine current power generation, circular agriculture, and air pollution management policies.
Established in January 2020 by US billionaire and philanthropist George Soros, Open Society University Network is a global network of educational institutions aiming to educate students across disciplines to address tomorrow's global challenges, foster their critical thinking and open intellectual inquiry. Members of OSUN engage in projects concerning democratic practice, sustainability and climate, inequalities, human rights, global justice, arts and society, and global public health. "NSYSU became one of present 31 members of OSUN in December 2020 and is the only member in the East Asian region," said Vice President for International Affairs Dr. Chih-Wen Kuo.
In January this year, Associate Professor Chi-I Lin of the Center for General Education, Si Wan College, became the Regional Coordinator of Solve Climate By 2030. "The world's top climate scientists have told us we have a ten-year window to make rapid reductions in the carbon pollution and maintain the global warming below 1.5ºC", said Professor Lin, the lead organizer of the April 7th event at NSYSU. "We can get a lot done in this decade if we focus the world on climate solutions and a just transition." As the world is struggling to reduce carbon emissions, NSYSU will host a public webinar on "Climate Solutions for Taiwan – Air, Earth, and Oceans" on April 7 at 19:00 to share Taiwan's experience and contribute to sustainable global development. One of the moderators of the webinar, Assistant Professor of Si Wan College Yuh-Yuh Li added that in the past few years, universities in Taiwan have made significant efforts in climate change education.
Dr. Eban Goodstein, the Director of Solve Climate By 2030, urges climate-concerned teachers at the university and high school level to assign the NSYSU webinar as homework – either live or recorded – and engage students in the dialog on the critical issue of climate change. The webinar at NSYSU will be one of over 125 webinars held across the world in early April that will let audiences around the world hear from local climate experts about steps that can help solve climate change, while creating much-needed jobs and income.
NSYSU's webinar will be broadcast live at 19:00 on April 7 and will include presentations by three experts: Associate Professor of the Department of Oceanography at NSYSU Yuan-Pin Chang, Director-General of the Information Bureau of Kaohsiung City Government Dr. Chien-Hung Tung, and former Director of Kaohsiung District Agriculture Research and Extension Station Dr. Ching-Ho Lin. Professor Chang will present the efforts and impacts of marine research in Taiwan and focus on marine current power generation. Director-General Tung will discuss the efforts by Kaohsiung City Government to reduce air pollution by energy transition to reduce carbon emissions and by encouraging the industry to use new technologies to minimize energy losses; he will also talk about the green revolution in public transportation in Kaohsiung and how the Government communicates with the residents to increase their support for the public policy. Former Director Lin will discuss Taiwan's efforts in circular agriculture to improve the quality of soil and reduce plastic use. The experts' reports will be interlaced with students' reports responding to the discussed topics and one of the highlights will be the opening and closing musical performance by the students from the Department of Music and a student band of the University.

Registration for April 7th webinar (registrants will receive an e-mail with a link to the dialog in advance of the event.): https://reurl.cc/dVOkrz
Watch online: http://demo.dracosky.net/cs_demo/nchc/
April 7th webinar information: https://reurl.cc/xgeMxb
Solve Climate By 2030 in Taiwan – fan page: https://www.facebook.com/SolveClimateBy2030inTaiwan
Solve Climate By 2030 – project website: https://www.solveclimateby2030.org/
Solve Climate By 2030 – promotional video: https://www.youtube.com/watch?v=-zq-XLtHG7k