Theater arts students explore elderly care issues in graduation play coming soon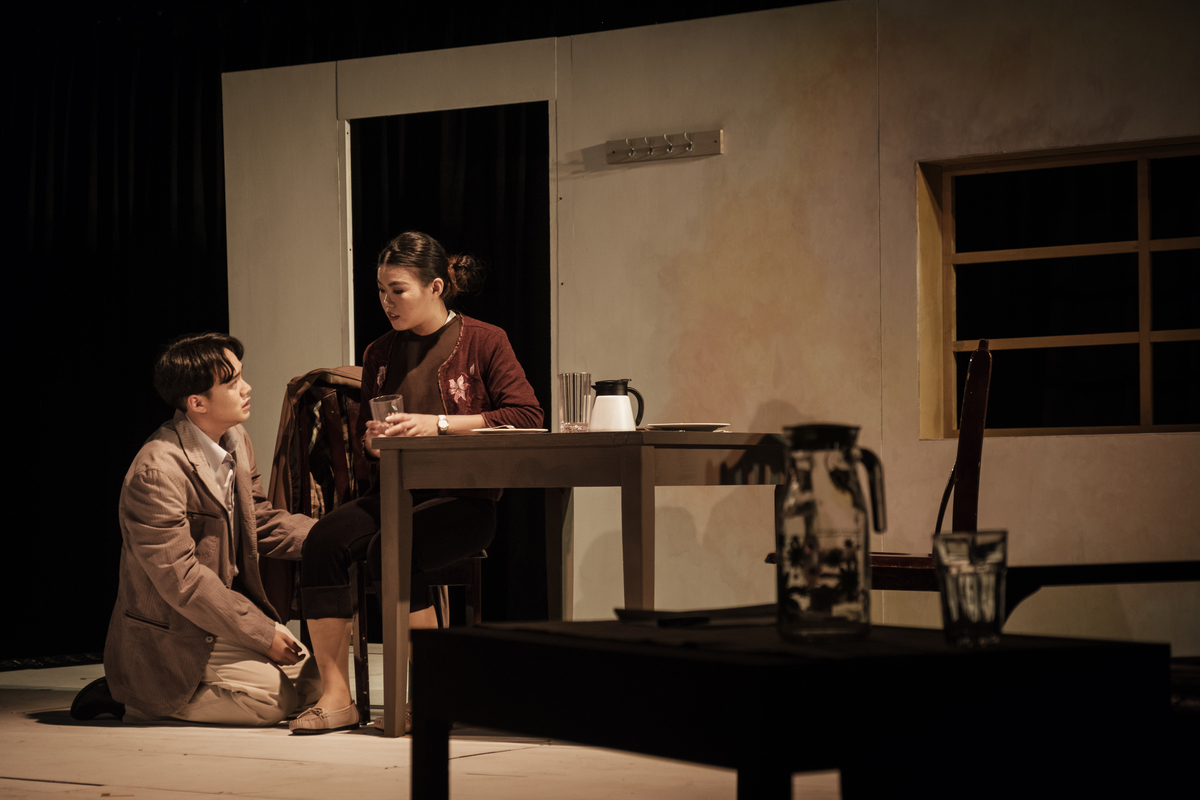 2021-04-29
From April 30 to May 2, senior students of the Department of Theater Arts (DTA) at National Sun Yat-sen University will perform their graduation play – "Spring Hibernation", a work by cutting-edge playwright Li-Ying Chien. The performance will take place in the experimental theater in the Fine Arts Building at NSYSU. This play explores the issues of dementia and elderly care; the students hope to reflect the social reality, let others better understand the problem of elderly care in our ageing society, and make the audience appreciate "each moment spent with their family members".
"Spring Hibernation" is a literary work on the subject of senile dementia, which tells the story of Cheng-Yang and Mei-Hsin, a couple married for several decades, who have been through love, work, and Cheng-Yang's love affair. In her old age, Mei-Hsin developed dementia and moved to a nursing home. While Mei-Hsin was in a nursing home, Mei-Hsin gets involved in a complicated emotional affair with a male patient, Kwang-Hsiung Li. The play director, DTA student Kai-Chih Wu said that this play mainly concentrates on how Cheng-Yang accompanies Mei-Hsin through her illness. Taking care of his wife, at the same time he realizes a feeling growing deep in his heart. "I hope to give this character a positive growth in a series of events."
Wu further explained that there is more to the story – it explores the issue of dementia in an ageing society. "Everybody will grow old eventually and with the gradually increasing life expectancy in Taiwan, it is important to learn about dementia and the need for elderly care," he said. This play can let the audience gain a better understanding of elderly care issues: how to make elders feel respected, loved, age with dignity, and, when one eventually grows old, how to maintain a good quality of life despite feeble-mindedness and declining memory. Besides, it can also support spectators experiencing similar problems and give them strength to carry on.
Chair of the DTA Professor Shang-Ying Chen said that the biggest challenge of this play are scenes that require actors to unobtrusively jump through different ages, emotional states and time periods. When coaching the students, she discovered that the actors cut the story in a very complete and smooth manner. She believes that on the day of the performance, her students will touch the hearts of the audience, trigger empathy, and draw their attention to the issues of elderly care.
For more information, please visit the Facebook fan page of the play (Chinese version only): https://reurl.cc/R6Gx6r