5 universities join NSYSU's online workshop on USR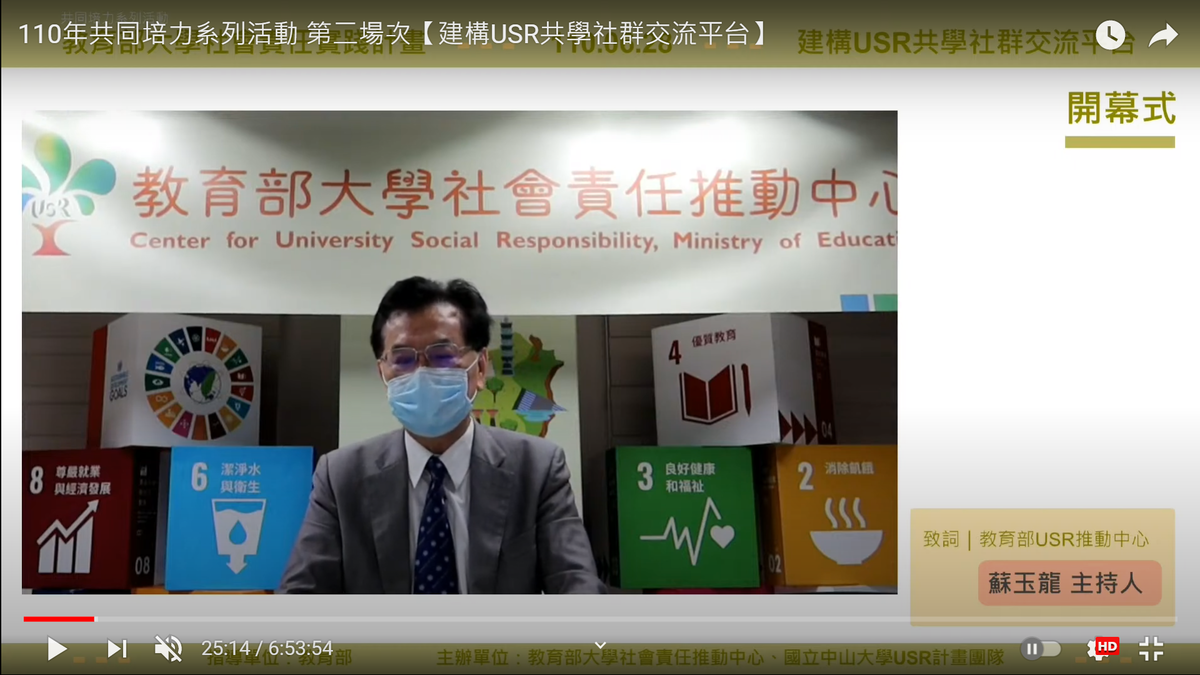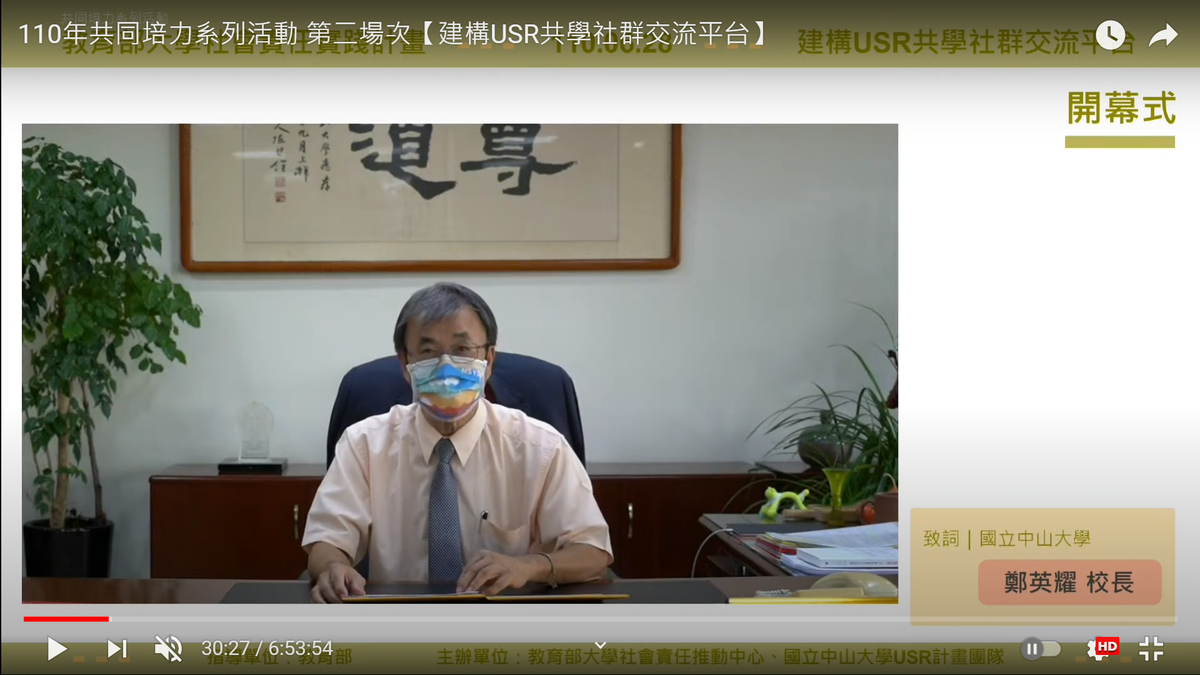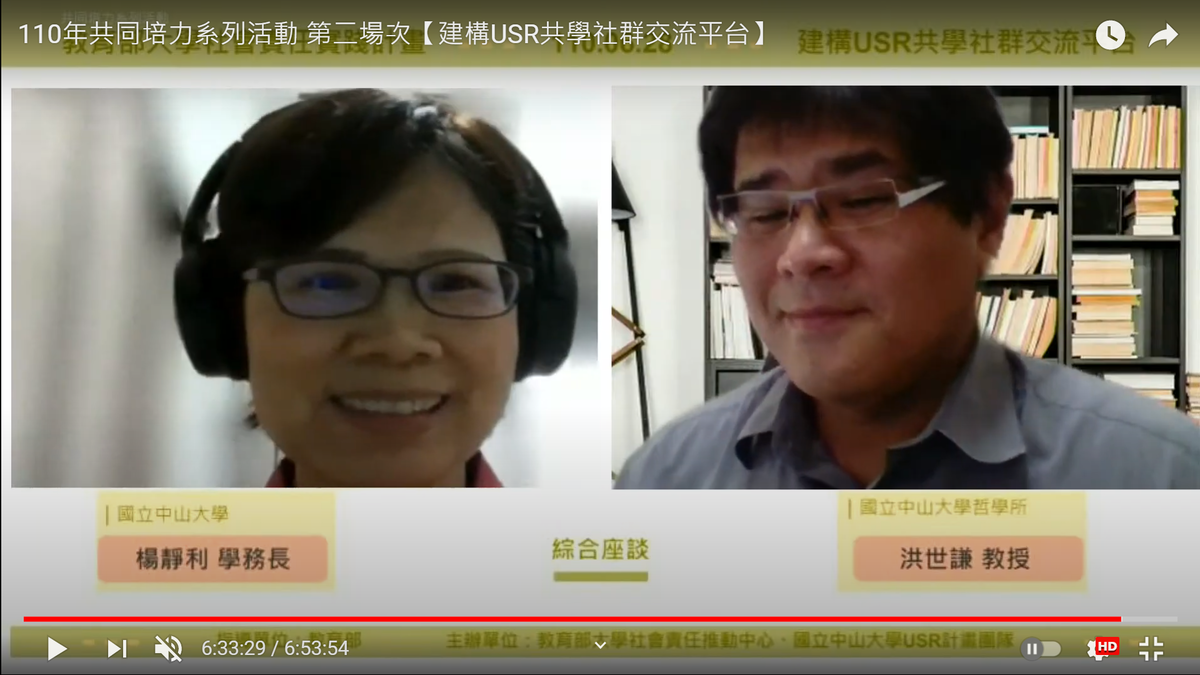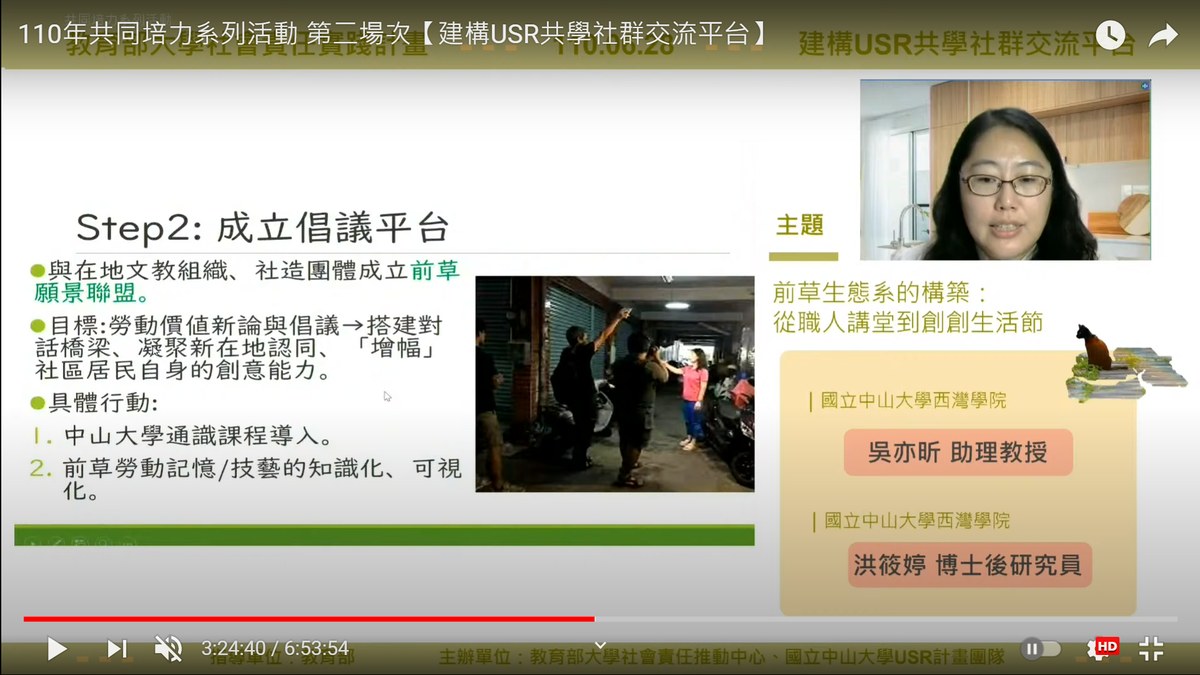 2021-07-12
(Provided by Si Wan College) The team of NSYSU's USR Project: Localization of Educational Knowledge and Globalization of Engagement Venues – Starting with Kaohsiung Old Port and New Bay Communities and the Center for University Social Responsibility of the Ministry of Education jointly organized a workshop, inviting teachers of National Chung Cheng University, Chang Jung Christian University, Shih Chien University, and Wenzao Ursuline University of Languages, who have rich experience working on USR projects. The online exchange established a co-learning and exchange platform on USR for participants to discuss problems they encountered and solutions.
Since 2018, NSYSU has been launching interdisciplinary co-learning groups to cultivate students' and teachers' diverse points of view on public issues across various professional fields. The University's resources helped expand the stable development of NSYSU's interdisciplinary faculty-student co-learning groups while integrating various disciplinary perspectives and focusing on social practice. The event started with a speech by Vice President for Student Affairs of NSYSU Ching-Li Yang. Yuhlong Oliver Su – Director of the Center for University Social Responsibility of the Ministry of Education and President of National Chi Nan University, and President of NSYSU Ying-Yao Cheng were invited to deliver speeches. The workshop aimed at exploring how a university can foster a strong and passionate academic exchange between faculty and students, as well as build up a strong motivation for self-directed learning in students.
During the first edition of the workshop, Dean of Si Wan College Dun-Hou Tsai and Assistant Professor Shi-Chi Yang discussed innovation and practice in general education. Then, Professor Ming-Jen Yu and Dr. Ci-Yu Lai shared their team's work from scratch, as they guided the students on a 4-day co-learning camp in Cishan to establish an initial connection with the local environment. Professor Yu-Feng Wong of Shih Chien University presented how he and his team linked external resources of Cishan and Neimen districts to make students establish a connection with the neighborhood and introduce cultural tourism.
The second half of the workshop concentrated on Ciancao District. Assistant Professor Yi-Shin Wu and Dr. Shiau-Ting Hung, who were born in Ciancao, shared that, as the landscape of Ciancao was undergoing industrial transformation, several questions arised – how to start again and what kind of cultural memory is worth preserving and promoting. In the past, Ciancao attracted people from all over Taiwan and now, the district attracts many new immigrants. Professor Chieh-Yu Tsai of Wenzao Ursuline University of Languages shared how to avoid disturbance and work for the common benefit in Ciancao. Besides eliminating prejudice, being tolerant and accepting, it is important to try to understand. "Because we can love something more if we understand it."
Professor Chia-Ling Tu and Professor Jing-Li Hong of Chang Jung Christian University discussed how philosophy connects with the society, shared the difficulties encountered on-site, how students used board games to connect with the Liugui community, and how this triggered their motivation to take an active interest in the local community. Professor Hui-Chen Fang of National Chung Cheng University introduced her USR team's project and said how the camp in Shanmei village of the Tsou indigenous group let the students work with local youth to promote indigenous culture. Besides, the team also helped the local population promote and sell products made of bamboo online. Professor Kayo Ito of Si Wan College, NSYSU, gave a speech on the Taiwan-Japan connection for USR as a topic of a Japanese lesson. Besides guiding Taiwanese and Japanese students to enter the community, she also helped them connect and exchange culture with high school students in Ehime Prefecture in Japan remotely.
The vast range of topics of the workshop included regional connections with Ciancao District, co-learning in Cishan, understanding indigenous peoples' values, preserving the culture of indigenous villages, and building connections between Taiwan and Japan. During the general session, NSYSU Vice President Yang said that one is bound to encounter multiple problems in the structuring and creation of single and cooperative cross-disciplinary fields, however, doubt and reflection can help one move forward and bring innovation. Director of NSYSU Institute of Social Innovation Shih-Chian Hung added that different "crosses" can be practiced by co-creating platforms, whether it's cross-discipline, cross-field, cross-generation, or cross-culture. He also agreed with Professor Chieh-Yu Tsai and said that commitment lets goodness circulate.
(Edited by Public Affairs Division)