Giant ranks top for consumer trust for second year in row, THSR jumps to 2nd rank, Chunghwa Post sees biggest improvement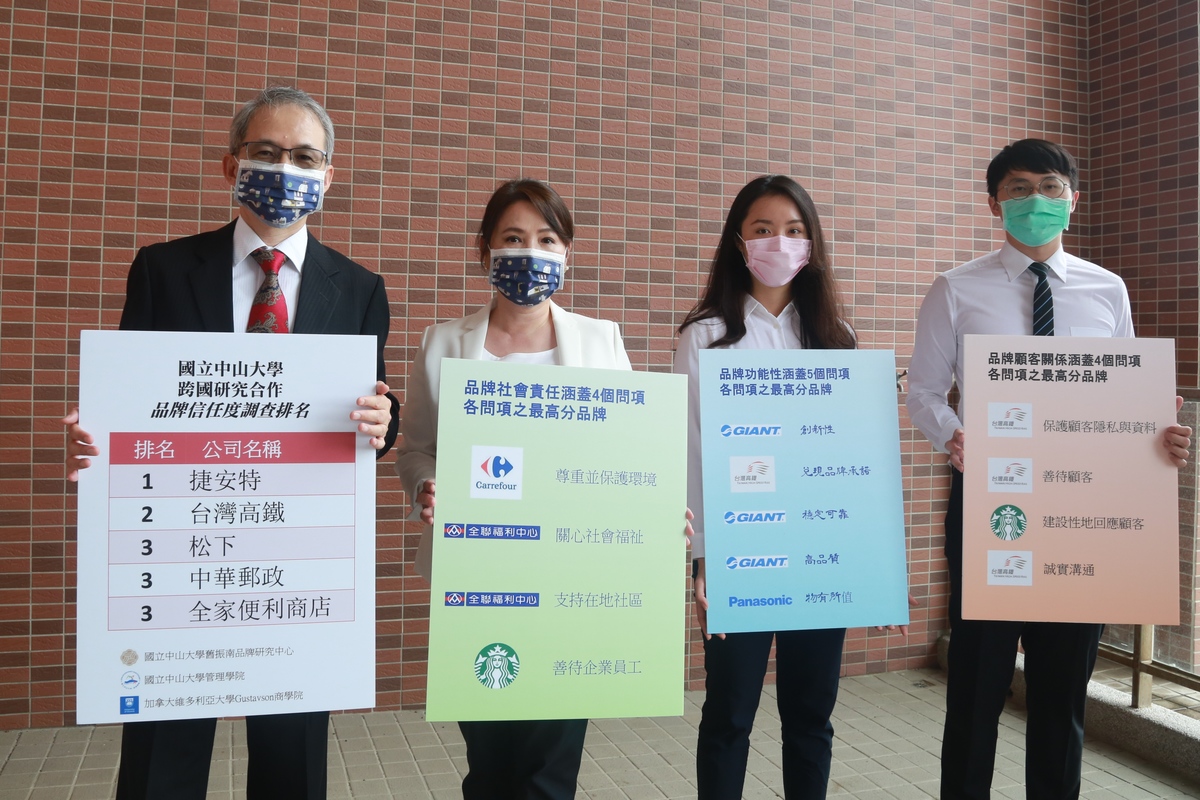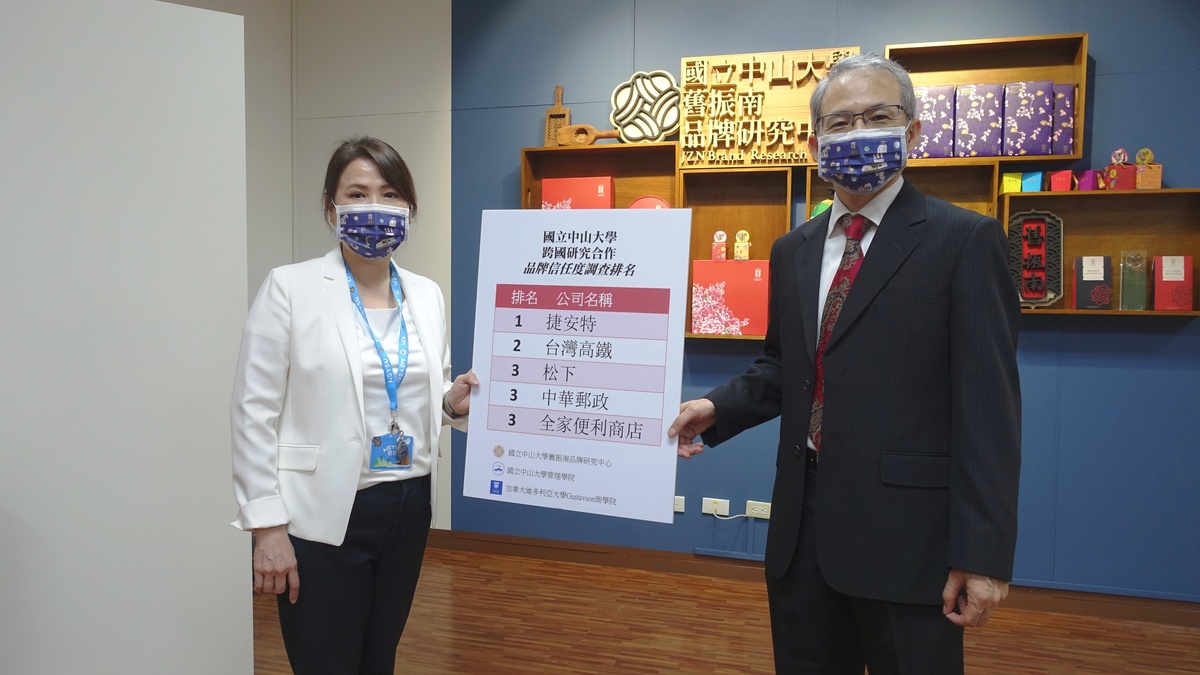 2021-09-02
NSYSU JZN Brand Research Center was authorized to use the survey tools of Gustavson School of Business, University of Victoria, Canada, to conduct a brand trust survey covering 40 top consumer brands in Taiwan in 17 different sectors. Giant Manufacturing Co. ranked first for consumer trust for the second year in a row. Director of NSYSU JZN Brand Research Center and Chairperson of the Department of Information Management Professor Fen-Hui Lin said that there are two possible reasons for this: Giant has started a sports craze and has won people's hearts, and what's more, it is an internationally renowned brand that makes Taiwanese people proud. During the 2020 pandemic, people would opt for outdoor sports rather than indoor, and so cycling has stayed popular. Besides, Youbike, a public bicycle sharing service in Taiwan, already available in seven cities, with an app and maintenance service, has been providing a quality experience to its users and this also contributed to Giant enjoying brand trust.
JZN Brand Research Center stated that this survey used "brand trust" as the overall indicator, which was then subdivided into three types of trust: value trust, functional trust, and relationship trust, and also, it made a ranking by word of mouth. Taiwan High Speed Rail made the biggest improvement, jumping from last year's 20th to the 2nd overall rank and the 1st for relationship trust. With the pandemic in 2020, Taiwan High Speed Rail (THSR) has strictly been enforcing epidemic prevention measures to give travelers peace of mind, whether their travel was essential or not, and has continued to improve the convenience of on-site and online ticketing, as well as membership benefits. Consumers felt the diligence and the efforts of THSR in improving their experience and this is how the company earned the 1st place for relationship trust.
Another brand that has made a notable improvement is Chunghwa Post. In the survey results as of 2020, it was far behind President Transnet Corp., while this year, it made a notable improvement, not only ranking 3rd in the overall ranking but also 4th for corporate social responsibility. Director Fen-Hui Lin said that when the government began distributing the "Triple Stimulus Vouchers" in July 2020 through post offices, there were queues in the beginning, however, later, the people noticed that the customer service became fast and its quality improved. This is how people experience the management and efficiency of the service of Chunghwa Post anew.
Another more obvious trend can be observed in the retail sector. Carrefour, Family Mart and PX Mart are the top three brands for value-based trust. Four major retailers/supermarkets rank within the top 10 for brand trust and word-of-mouth. This shows that the retail industry has the most frequent contact with consumers and that the competition is extremely fierce. In terms of brand management, retailers are not only satisfying consumers' needs for functionality but also gaining their recognition and trust for corporate social responsibility and customer relationship.
The members of the brand trust survey team included Professor Fen-Hui Lin – Director of the JZN Brand Research Center, graduate students Hsing-Chia Lin and Kuan-Ju Chen, and Associate Professor Linda Shi of the Gustavson School of Business, University of Victoria in Canada. The team conducted the survey online from February 5th to April 1st, 2021, and collected information online from 1,770 respondents aged above 18. Brands were evaluated in five major aspects: brand trust, values-based trust, functional trust, relationship trust, and word of mouth; the questionnaire included 17 questions. The team considered top four businesses of 17 sectors that appeared in the 2019 ranking of 2,000 businesses with the highest revenues by CommonWealth Magazine. Then, the most representative brands of these businesses were chosen and this is how a ranking of 40 enterprises and brands was arranged.
Note:
The University of Victoria in Canada ranks 364th in the QS World University Ranking published in May 2020 and 2nd in Canada's Top Comprehensive Schools 2020. It is thus one of the top academic institutions in Canada. Starting from 2015, Gustavson School of Business begun to arrange rankings of over 300 domestic and foreign highly-reputed brands, conducting consumer trust surveys every year and assessing every brand's performance. The survey results, besides raising consumers' awareness, are a reference for businesses' brand strategy.
The value-based trust index in this survey represents consumers' acknowledgment of a brand's values and its corporate social responsibility, and of how it treats its employees, the environment, and the community. Carrefour was on top of the ranking and the top ten ranks were occupied by retailers (Family Mart, PX Mart), passenger transport (THSR), post and courier services (Chunghwa Post), other transportation vehicles (Giant), coffee shop brand (Starbucks), retailer (7-Eleven), home appliances brand (Panasonic), and a car brand (Toyota).
Functional trust ranking displays the brands with the most reliable and innovative products and services that won customers' trust for their functionality. The top ten ranks differed only on small points: Giant was again on the top, proving consumers' trust in the brand's functionality and reliability. Besides, Hitachi's rank jumped from last year's 16th to this year's 2nd, proving consumers' trust in the brand's quality and service.
The relationship trust index indicates the interaction of the consumers with the brand, including privacy policy, customer responsiveness, honesty in communication, and customer service that build up customer's trust for the brand. Taiwan High Speed Rail, Wowprime, and Chunghwa Post ranked among the top 10, which demonstrates their excellent relationship with customers and enjoyed trust.
The ranking by word of mouth indicates the willingness of customers to recommend a certain brand to other people, because of their satisfaction, brand's promotions, or special offers. To a brand, such publicity is an additional advantage. The word of mouth ranking represents people's willingness to promote a certain brand in one's social circles; among the top ten are four major retailers, Chunghwa Post, and Taiwan High Speed Rail. Professor Lin said that this survey proved a relatively high consumers' trust in the services of necessities brands – retailers, transportation, telecommunications service providers, food and drinks, and air service. Many brands of such industries as software, electronics, cars, housing brokers ranked rather low. It might be because the consumer does not have many opportunities to interact with such a brand and get to know it, and thus a relation of trust between brands and consumers is harder to establish.