NSYSU President: cultivating international-minded bilingual talents / Interview by Global Views Monthly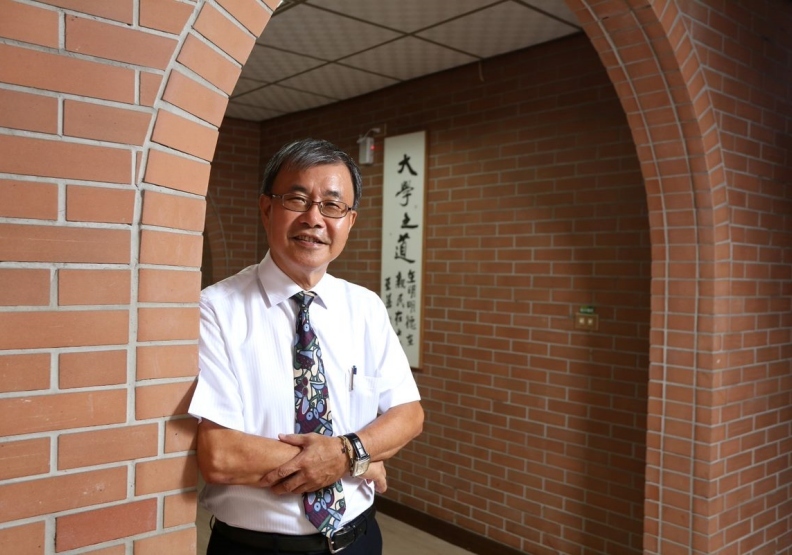 2021-10-07
Article by Global Views Monthly: 2022 Grad Compass
5 questions on graduate programs> How bilingual master programs embrace internationalization trends?
Text by Li-Ting Lin, photography by Chih-Chieh Chang

Globalization has made international exchange more and more frequent and so international cooperation has become a norm in many industries, such as technology. In response to the current trend of growing international interaction, NSYSU President Ying-Yao Cheng said that he believes that developing language skills is a top priority: not only bilingual education brooks no delay, but going abroad to study can be of an even greater benefit to the students.
Regarding enterprise management, the trend of global mobility cannot be stopped: such companies as Taiwan Semiconductor Manufacturing Company or Formosa Plastics Group have established factories in the USA. Since the epidemic outbreak, the world became interconnected even more closely, however distance was an issue. Complex problems during the pandemic could of course be solved, however, nothing can compare to the creativity. Influence, and recognition of international collaboration capacity.
In the past, talent cultivation in Taiwan emphasized personal performance. We might be talented, but the future work model focuses on teamwork to integrate resources across disciplines. As we ponder on the future of higher education, we also need to consider the need to communicate internationally, which naturally requires language abilities.

Teamwork has become a trend, language abilities are a must
Future professionals not only have to face a myriad of challenges brought by changes in the society but also, they need innovative and critical thinking abilities. What is often overlooked in students' education, whether in learning or problem solving, is the crucial ability to collaborate.
The concept of interdisciplinarity, so popular nowadays, implies that individuals cannot rely on knowledge in one single discipline but must collaborate with other to solve complex problems. One person cannot master all disciplines and I thus encourage interdisciplinary learning. But what is even more important, is how to form a team for everyone to collaborate and face the multiple problems that sprout in the ever-changing society.
As for graduate education, I hope that the students can combine personal interests with their career, try interdisciplinary learning, and connect with different academic teams. I believe that the learning experience both abroad and on campus can let them acquire the ability to cooperate with others, which will come in handy when they come across challenges.
In particular, the field of humanities and social sciences tended to be more of a solo work in the past. I hope that the students won't spend their entire graduate study period with their noses in the books but will be open-minded, interact with people across countries, universities and fields, and take courses across colleges, which will definitely be an added value to their specialty.
Teamwork requires a lot of interpersonal communication, and with international mobility as the new norm, foreign language skills are already a basic requirement. Starting from this year, each of our institutes will offer at least 6 English courses a year in English, with a minimum of 18 credits (36 credits over two years), to ensure that graduate students receive their master's diploma with full English courses.
As the teaching model in English is steadily implemented, the language barrier will gradually disappear. Once we create a more friendly environment for language learning, more international students will come to NSYSU to study. This will be a valuable opportunity for local students to exchange, broaden their horizons, and grow.

Step out and discover the beauty of the world
Last year, the government announced the Bilingual Nation by 2030 Policy. Earlier in 2018, we made up our minds to become a fully English-language university and have an increasing number of programs and courses in English.
Not only the university's curriculum will be taught in English, but we also want to broaden our students' horizons as much as possible by partnering with sister schools to let the students have a longer, immersive international experience abroad. At present, we have over 200 partnering universities, most of them are famous universities in Europe, America, Asia, and Oceania with outstanding teachers, R&D capacity, and alumni.
We need to catch this opportunity to let students participate in those universities' education, research, and talent cultivation, and make universities from all over the world become our learning platform. For those who come to NSYSU to study at the graduate level, we value the international exchange experience and have set exchange abroad as a graduation requirement for PhD students.

In addition to professional skills, graduate students should also develop cross-cultural understanding and communication skills. Going abroad for exchange can help connect with other countries and the international academic community – a bonus to future development, whether in industry or academia.
Many students worry about the too high costs of going abroad for exchange and those with economic problems often step back and we thus do our best to support them. If a student is willing to study in a foreign institution or do an internship in a company abroad, NSYSU will provide them with a monthly scholarship of NTD 10,000 for a maximum of one year, or, for economically disadvantaged students – a full subsidy. We strive to create a positive environment for all students, regardless of their economic situation.
Experiential learning while living abroad is a lifetime experience. Just like now we can watch many plays and stage performances on the Internet, it is still very different from watching them live.
As long as you step outside, you will discover the beauty of the world. What makes the world interesting is the diversity of cultures, lifestyles, values, and mentality in each country. Learning to respect, accept, and appreciate these differences is an important element of talent cultivation, crucial for future development.

Original article in Global Views Monthly: https://www.gvm.com.tw/article/82608